Empire State Bastard, the long-awaited heavy project from Biffy Clyro's Simon Neil and Oceansize's Mike Vennart, have just unleashed their debut album 'Rivers Of Heresy'. We delve deep into the writing and recording process behind some of the heaviest songs of their careers in this latest edition of The Album Story.
Plus, we have teamed up with the band to produce this exclusive t-shirt design you won't find anywhere else.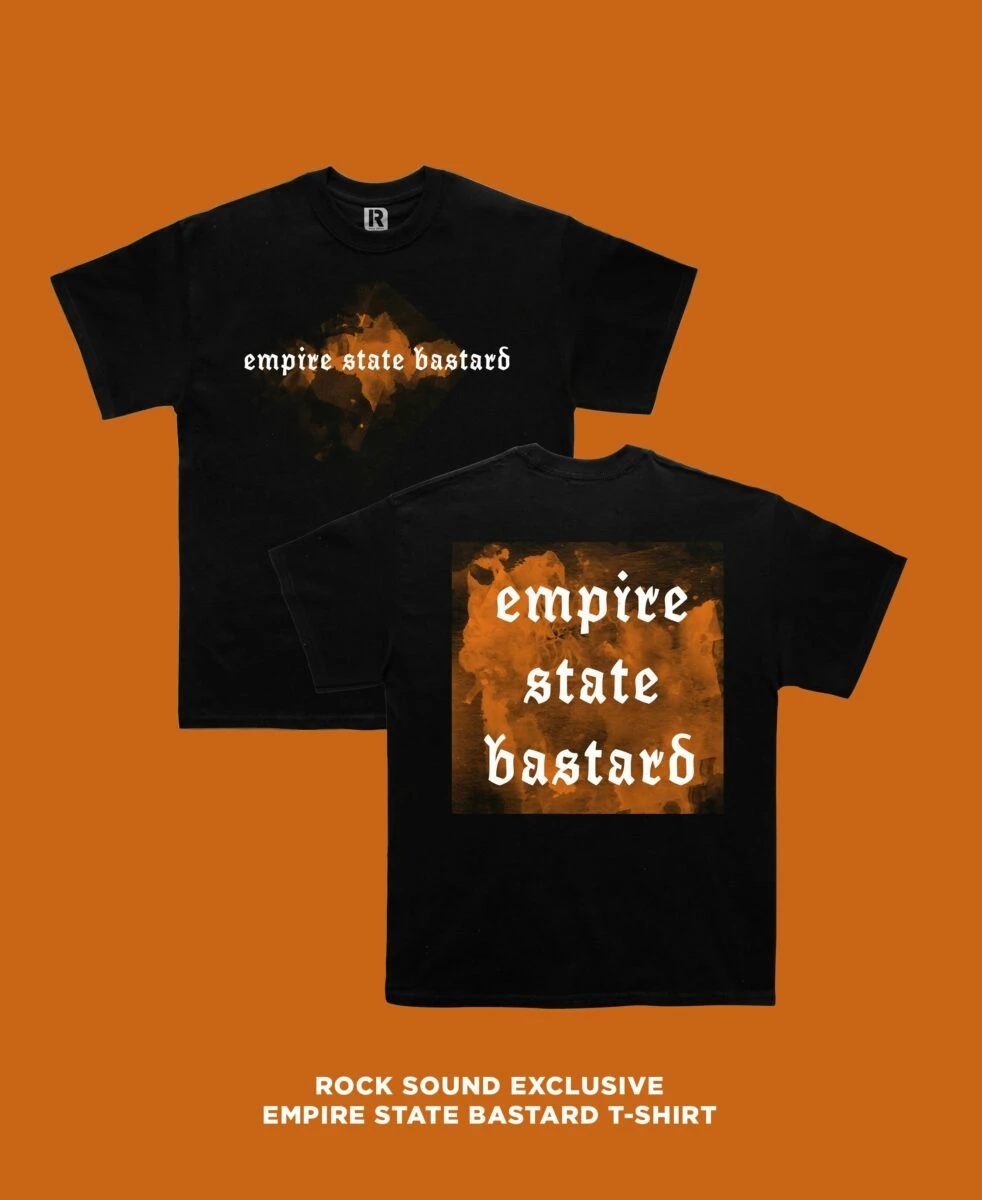 It is delivered worldwide and available now from SHOP.ROCKSOUND.TV or by clicking the image above.
Read Empire State Bastard, 'Rivers Of Heresy' | The Album Story below:
(Click 'View Fullscreen' for digital feature or scroll down for the text only version)
TEXT ONLY VERSION BELOW
It is extremely rare for a mere band name to have a reputation and expectation formed around it before the first riff has even been written. Yet for Biffy Clyro's Simon Neil and Oceansize's Mike Vennart, the discussion and anticipation around the eventual debut of their brutal metal project, Empire State Bastard, has floated around the fandom for years. So, why did now feel like the right moment to finally bring ESB to life?
"Because we had waited for so long to work together, we didn't want to rush it and do it just for the sake of it" explains Simon, who cites the extra time afforded to them by the pandemic as an obvious starting point in the writing process. Following a lengthy unplugged acoustic tour with Biffy, it also seemed like the perfect time for the pair to find something heavier to turn their attention to.
Now, as 'Rivers Of Heresy' is unleashed on the unsuspecting public, Simon and Mike talk channeling the history of metal into its 10 tracks, turning riotous rage into riffs and having a hell of a lot of fun along the way.
THE SOUND
Given the vast difference in sound to their other respective projects, did they find there were any changes in their songwriting style as they entered the new world of Empire State Bastard?
"I don't ordinarily start writing on the guitar", says Mike. "But when it came to writing this, I was just really pissed off and wanted to make music that was as pissed off as I felt. It became a natural thing. Stop trying to write elaborate chord sequences that nobody has heard before or cool melodies or nice guitar chords – just fucking play the most brutal fifths, flattened fifths, perfect fourths. Just things that will slam into people's faces. Don't fucking overthink it; just make it as brutal and real as possible. It became clear – this is what Empire State Bastard should have sounded like. Maybe we should start talking about that again…"
"The main change for me was I was getting a spark and taking inspiration from Mike", Simon adds. "With a Biffy song, it comes from inside me so I very much know what I want the song to be before I've even finished writing it. The beauty of this was to be presented with a bunch of ideas."
A clear aim for Neil was to try and avoid sounds that could sound too much like his work with Biffy. With Mike alongside him leading the charge, it pushed him into new, collaborative territory as a writer.
"It was liberating for me. My initial mission statement was 'no melody whatsoever'. That's what we had intended but then obviously some of the songs told me that they needed a bit of levity at points. But I don't feel as though it ever cross-pollinated into how I would write a Biffy song and that was deliberate."
"It's weird for me and Mike to have been playing songs live that people don't know" he continues, looking back on their festival run this summer, including appearances at Download and 2000 Trees. "For some of the shows, there was only one song out. It was slightly liberating but I think there is an understanding of why we are doing this. There is a real honesty to this project. It kind of feels like a necessity."
First single and album opener 'Harvest' set the scene for what was to come and with its unrelenting attack and some particularly punishing vocals, it may well have caught at least a few listeners by surprise.
"I think maybe some people were hoping for Oceansize with Simon singing or vice versa", Mike admits. "But the fact that it ended up like this probably isn't actually a surprise to most people. Its kind of what everybody hoped it would be, I like to think so anyway. It's an eclectic record that does a lot of different stuff but it is all heavy as fuck."
Indeed, 'Rivers Of Heresy' is as much a celebration of metal's diversity as a genre as it is an audio history lesson, with touches of Iron Maiden, Will Haven, Tool and (inevitably) Slayer all brought into play, even if just for the briefest of moments.
"Every metal band we have ever loved has fed into this," says Simon. "It's about bringing all those influences together and then letting our freak flag fly."
THE LYRICS
When discussing Biffy Clyro's masterful recent albums 'A Celebration Of Endings' and 'The Myth Of The Happily Ever After', Simon told Rock Sound about his sudden desire to scream again for the first time in several years. Now, with ESB, he has ventured even further down that vocal path once again.
"Life's tougher than it fucking should be in 2023. That's what it comes down to", Simon says, citing the impact of Brexit, the pandemic and the war as reasons to scream and channel your anger at the world into music.
"At the turn of the millennium it felt like everything was going up. And now here we are twenty years later and it feels like the only way is down. I've poured my anger into the record – I'm lucky that I have a healthy outlet. Some people aren't lucky enough to have that."
Themes of despair are particularly clear on album closer 'The Looming', as Simon sings of 'the devastation's looming like Jesus' as he wishes the listeners a 'good night'.
"It's a song about the end of the world," he explains. "It was a really hard song to follow on the record. We didn't set out knowing that it was going to be the last song but as soon as we finished it we knew it would be the pinnacle of the record. This was where we needed to leave a statement."
"I love that this song starts as like a rolling monolith and then it builds up and musically, the syrup of it all, it just made me think about the end" he continues. "There was something about the actual music that made me think about the end of the world and led me down that lyrical path."
THE COLLABORATORS
Even when they were just putting together demos, all drum parts were labeled with the word Lombardo, the legendary Slayer, Mr. Bungle and The Misfits drummer having heavily inspired the sound they aimed to achieve. But with no prior relationship with Dave Lombardo, how did they manage to convince him to join the group?
"Quite spookily, I'd been to San Francisco to see Mr. Bungle about a month before" Mike explains. "Pretty much a week after I got back, it was lockdown. That's when it came to pass that we had time to do the record and we just decided to get cheeky and think big and ask the greatest metal drummer of all time."
"And we were aware of that at the time when we were writing the email" Simon adds. "We were about to ask the greatest metal drummer of all time to play on, what felt at the time, our very stupid record."
Lombardo replied within 24 hours saying he would absolutely make time for them immediately. The email acted as something of a 'kick up the arse' for the guys, fuelled by the realization that someone else was taking ESB as seriously as them.
As Mike puts it, "It is the biggest compliment we could ever have been paid to have him on the record."
The lineup was then completed by Naomi Macleod of Bitch Falcon on bass, another valued contributor who came into the band almost by accident.
"We were looking for a special someone and she just magically appeared as a friend of a friend and we really hit it off," Mike says. "I knew she had the chops and she could not only hold her own as a badass funk pop bass player but I knew she was a doomy, goth loony at heart as well."
Full band practices quickly turned into bonding sessions as Mike's idea of escaping to the Yorkshire valleys for a week came to fruition. With bad Wi-Fi and phone signal, there was nothing to do but play music all day long, followed by some pub and curry trips of course.
"Fortunately, there are no dickheads in this band" Mike laughs.
THE TITLE AND THE ARTWORK
Mike focused in on the phrase 'Rivers Of Heresy' early in the process and, as Simon explains, it perfectly summed up the lyrical themes on the record.
"It felt apt. When civilization was starting, they would always base towns around rivers. It was a source of life, where they could fish and do their trading. I just think in this moment, our lifeblood of who we are and who we were raised to be is absolutely soiled. That source of life and something that should be innocent and that everybody should have a right to be around is actually poisoned."
For the artwork, they turned to old friend Daniel P. Carter who has also produced an accompanying zine that will be released with the album.
"From the moment we discussed the project, we knew we wanted Dan" Simon says. "We love Dan's artwork. He has interpreted lines of lyrics and song titles. Everything has a reason to be there."
However, he does reveal that they had to abandon one original artwork idea involving Ronald McDonald and a giant Nike shoe. It was, as Simon describes it, "a lawsuit waiting to happen" but one they hope to sneak out at some point anyway.
THE FUTURE
Empire State Bastard will wrap up 2023 with a headlining UK tour, finally playing to crowds who are fully familiar with the twists and turns of 'Rivers Of Heresy'. And, moving forward, it would appear that the guys have no plans to slow down.
"It's too fun to leave it on the shelf" says Mike. "We'll have another album. We are gonna be working on that, will hopefully have it written by the end of the year. It's just too much fun to go in and out and get the kettle on. We're a good band, we get along great and it feels good."
"It feels like we've just started" Simon adds. "Because everything started backwards – we had the band name and the rough concept of what we wanted to do, then the music, then the album and then the band formed. Everything is backwards and I think that's what has kept it so exciting. We will definitely strike while the iron is hot. When it feels good and it feels right, you don't wanna ask any questions, you just follow your heart."